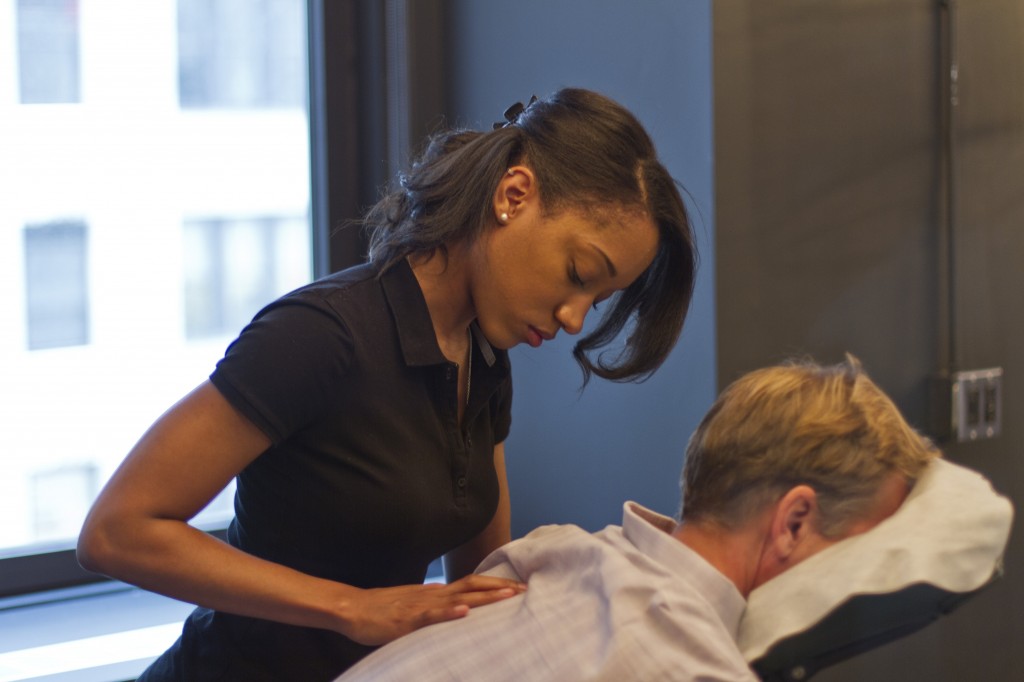 About Massage Artistry's on site chair massage:
All massage therapists are New York State licensed professionals
All services are performed on a professional massage chair with the client fully clothed in a seated position
Massage therapists provide tailor fitted 10-15 minute massages to each person focusing on the areas of concern for the client and provide relaxation
No massage oil or creams are used unless requested
Completely sanitary: therapist washes his or her hands with alcohol based sanitizer before and after each client and face cradle is sanitized in between clients as well
Relaxing spa music provided
Events require a 3 hour minimum
50% deposit required to confirm event
Always a well received addition to any event. Clients leave feeling re-energized, refreshed and relaxed.
Request a quote and provide the following information:
Event Date

Event Type

Event Length

Number of therapist needed. (If unknown, provide the number of people who will be receiving massages).
Testimonials
"As a fashion brand, we wanted to offer a benefit to our employees that would not only be utilized, but that would also set us apart from our competitors. At the suggestion of one of our associates, our organization hired Araina to provide on-site chair massages. The massages have been a massive hit and each event quickly fills to capacity each time that we host it. The massages are so well-received that we now offer this benefit on a monthly basis. Araina is the utmost professional, she is incredibly warm and everyone that has had a massage with her has had nothing but great things to say. There is very little set-up required of us as an employer. The massages are a great value as they allow us to provide a well-deserved break for our employees. I would highly recommend Araina's services to any organization looking for a unique and cost-effective benefit."
-
Lindsay R.
Human Resources at Vince.
"Araina was such a big hit at our "Stress Buster Day" for students that even the staff wanted to "cut in line!" Our students go through a lot at the end of term taking finals, writing papers, looking for a job, preparing to graduate, etc. I knew the students would appreciate having a massage to help them de-stress, relax and have fun. Araina went above and beyond what I expected! She was professional from beginning to end, from planning to execution, and everything in between. What a great way to end the semester, I've got to bring her back again."
-
Nathaniel S.
"Massage Artistry is a fantastic company with highly trained massage therapists. We had an event to celebrate our staff and our massage therapists did a tremendous job. They were timely and created a soothing ambiance. All of our staff members felt completely relaxed after their massages. It was one of our favorite events. Thank you so much Massage Artistry!"
-
Stephanie I.
Still have further questions? Please email info@massageartistrynyc.com